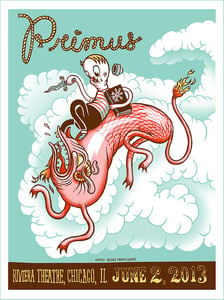 $

50.00
Primus sucks! Well, that's what people say anyway...
Regardless, I think they're a delightful bunch, and did this poster design for their recent Chicago appearance. If you missed out on getting one at the show, please don't fret about it. Now you can get a signed one. Indeed, now you can scoff at and look down upon your friends who already have their inferior un-signed versions.
5 color silkscreen
18" X 24"
Edition size is 225.
For sale here is an artist signed edition of 50. I should know. I signed them.